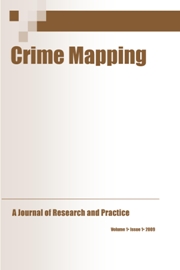 Crime Mapping: A Journal of Research and Practice
Co-Editors Timothy C. Hart, Ph.D. & Paul Zandbergen, Ph.D
• ISSN: 1942-0927 (Print) • ISSN: 2152-9876 (Online)
Keywords: Environmental Criminology, Crime Analysis, Space, Time, and Crime
Article Price: $18.99
---
A Microspatial Analysis of Robbery: Prospective Hot Spotting in a Small City
ISAAC T. VAN PATTEN, JENNIFER MCKELDIN-CONER, and DEANA COX
Abstract | Pp. 7–32 |




With the greater availability of crime data geocoded to the incident level and the general accessibility of the tools for spatial analysis, it has become possible to complete successful microspatial analysis of crime. Robbery is a crime uniquely suited to this type of study. It is a volume crime committed with both instrumental and expressive motivations. Further, most robberies (even those occurring consonant with other illegal activity) tend to get rapidly reported to the police. All robberies reported to the police in a small city over a four-year period were geocoded and a first- and second-order spatial analysis identified hot spots. These hot spots were analyzed for accuracy and predictive accuracy using the Predictive Accuracy Index. Implications for crime control strategy are discussed.



---