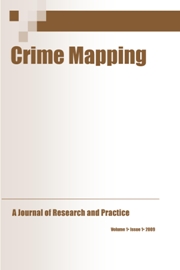 Crime Mapping: A Journal of Research and Practice
Co-Editors Timothy C. Hart, Ph.D. & Paul Zandbergen, Ph.D
• ISSN: 1942-0927 (Print) • ISSN: 2152-9876 (Online)
Keywords: Environmental Criminology, Crime Analysis, Space, Time, and Crime
Article Price: $18.99
---
Utilizing Land Cover Characteristics to Enhance Journey-to-Crime Estimation Models
JOSHUA KENT and MICHAEL LEITNER
Abstract | Pp. 33–54 |




Traditional Journey-to-Crime (JTC) estimations are used to create probability surfaces from which a Geographic Profile is derived. While effective as a decision support tool, existing JTC methodologies do not account for the physical and cultural landscape in which serial offenders operate. This research proposes to enhance existing JTC techniques using land cover probability values. Geographic profiles were generated for 70 crime series. Traditional and land cover enhanced estimates were compared. Results indicate that land cover characteristics were able to improve existing JTC performance, but failed to show consistent improvements over existing metimprovements to JTC estimations are provided.



---