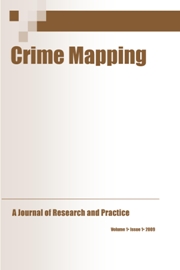 Crime Mapping: A Journal of Research and Practice
Co-Editors Timothy C. Hart, Ph.D. & Paul Zandbergen, Ph.D
• ISSN: 1942-0927 (Print) • ISSN: 2152-9876 (Online)
Keywords: Environmental Criminology, Crime Analysis, Space, Time, and Crime
Article Price: $18.99
---
Residency Restrictions: A Geospatial Analysis of Sex Offender Movement over Time
TASHA J. YOUSTIN and MATT R. NOBLES
Abstract | Pp. 55–76 |




This study assesses the geospatial effects of sex offender residency restrictions in one Florida county at two time points. Data were used to determine if sex offenders were spatially clustered, if tougher restrictions increased clustering, and how residency restrictions affected areas with high concentrations of children and areas of low income. Findings indicate that while minor offender clustering is occurring, in general offenders became more widely dispersed throughout the county as a result of a more restrictive residency ordinance. Results demonstrate that current restrictions do not prevent convicted offenders from living in areas with the highest concentrations of children under age 18 and that a large number of offenders were not in compliance with current restrictions, indicating difficulties with implementation of enforcement.



---