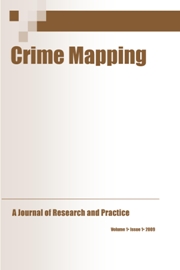 Crime Mapping: A Journal of Research and Practice
Co-Editors Timothy C. Hart, Ph.D. & Paul Zandbergen, Ph.D
• ISSN: 1942-0927 (Print) • ISSN: 2152-9876 (Online)
Keywords: Environmental Criminology, Crime Analysis, Space, Time, and Crime
Article Price: $18.99
---
The Spatial Aspects of Victims in the Narratives of Serial Offenders: Linguistic Insights on Environmental Criminology and Geographical Profiling
BLAKE S. HOWALD
Abstract | Pp. 40–64 |




The cognitive map -- an individual's mental representation of the environment -- plays a key role in environmental criminology. As compared to research that evaluates the cognitive map of an offender's crime through various mediums (drawings, interviews), this article provides an exploratory analysis of linguistic cognitive maps in the narratives of sexually-motivated serial homicide offenders. As demonstrated, this medium reveals a critical integration of the victim into the narrated environment -- suggesting the importance of victimology in routine activity theory approaches to environmental criminology (Brantingham & Brantingham, 1984) and as a potential source of information to refine geographical profiling techniques.



---