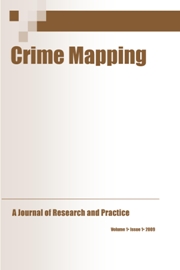 Crime Mapping: A Journal of Research and Practice
Co-Editors Timothy C. Hart, Ph.D. & Paul Zandbergen, Ph.D
• ISSN: 1942-0927 (Print) • ISSN: 2152-9876 (Online)
Keywords: Environmental Criminology, Crime Analysis, Space, Time, and Crime
Article Price: $18.99
---
Flexible Geospatial Visual Analytics and Simulation Technologies to Enhance Criminal Justice Decision Support Systems
LUC ANSELIN, SERGIO J. REY, and JULIA KOSCHINSKY
Abstract | Pp. 10–31 |




This article outlines efforts by Arizona State University's GeoDa Center for Geospatial Analysis and Computation to develop a flexible methodological framework for space-time and network-based analysis of crime events. This framework integrates new techniques for geospatial visual analytics and spatial econometrics with state of the art geocomputation technologies. The goal is to yield the basis for an enhanced decision support system for criminal justice interventions through an open source and cross-platform modular software toolbox. This toolbox will be delivered through traditional free standing desktop software, toolbox extensions to commercial GIS, web services and integration into the virtual reality environment of ASU's Decision Theater.



---