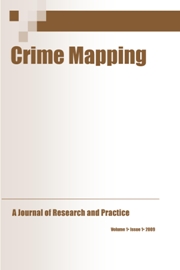 Crime Mapping: A Journal of Research and Practice
Co-Editors Timothy C. Hart, Ph.D. & Paul Zandbergen, Ph.D
• ISSN: 1942-0927 (Print) • ISSN: 2152-9876 (Online)
Keywords: Environmental Criminology, Crime Analysis, Space, Time, and Crime
Article Price: $18.99
---
An Evaluation of Ambient Population Estimates for Use in Crime Analysis
MARTIN A. ANDRESEN, GREG W. JENION, and ANDREW A. REID
Abstract | Pp. 7–30 |




Conventionally calculated crime rates are plagued with the selection of the population at risk of criminal victimization. Recent crime analysis research has employed a new measure of the population at risk, the ambient population, but this new measurement of the population at risk has not undergone much external evaluation. We use land use data to measure population attractors as an evaluation of the ambient population estimates. We find that land use is not a good predictor of population increases predicted by the ambient population.



---