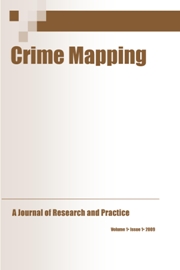 Crime Mapping: A Journal of Research and Practice
Co-Editors Timothy C. Hart, Ph.D. & Paul Zandbergen, Ph.D
• ISSN: 1942-0927 (Print) • ISSN: 2152-9876 (Online)
Keywords: Environmental Criminology, Crime Analysis, Space, Time, and Crime
Article Price: $18.99
---
Kansas City's Violent Crime Initiative: A Place- Based Evaluation of Location-Specific Intervention Activities During a Fixed Time Period
JOEL M. CAPLAN, LESLIE W. KENNEDY, and JONAS BAUGHMAN
Abstract | Pp. 9–37 |




A place-based method of evaluation and spatial units of analysis were used to measure the extent to which Kansas City, Missouri's Violent Crime Initiative (VCI) affected the post-intervention frequency and spatial distribution of crime events at micro-level places. Analytical strategies directly addressed the place-based nature of the VCI activities and were sensitive enough to assess the impact of the VCI without results being confounded by aggregation effects coming from the ecological fallacy. Risk terrain modeling methods were used to operationalize Kansas City's contextual criminogenic landscape. Results suggest that the spatial dynamics of aggravated assaults did not change in Kansas City over a climatically stable six month time period, despite activities of the VCI midway. The presence of environmental risk factors and past aggravated assaults affected the locations of new incidents, so pre- and post-VCI incidents tended to occur where they always did, in contextually similar types of places. The analysis demonstrates ways in which spatial analysis techniques can complement traditional 'aggregate crime drop' evaluations of a targeted intervention's success or failure by taking into account micro-level place- based effects.



---