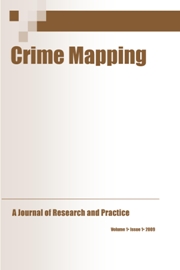 Crime Mapping: A Journal of Research and Practice
Co-Editors Timothy C. Hart, Ph.D. & Paul Zandbergen, Ph.D
• ISSN: 1942-0927 (Print) • ISSN: 2152-9876 (Online)
Keywords: Environmental Criminology, Crime Analysis, Space, Time, and Crime
Article Price: $18.99
---
Mapping Gang Spheres of Influence
SAMUEL H. HUDDLESTON, JON FOX, and DONALD E. BROWN
Abstract | Pp. 39–67 |




Many urban environments have criminal gangs competing for control of available resources and gang territories. Research in criminology has linked the effect of these gang territories on criminal activity by criminal gangs. However, a great deal of a given criminal group's activity occurs beyond the boundaries of that gang's known territory but within a region we term a gang's criminal sphere of influence. This paper documents the contributions of combining multilevel spatial choice modeling of gang behavior with a Geographic Information System (GIS) to develop a Sphere of Influence (SOI) analysis for criminal gangs in a given geographic region.



---