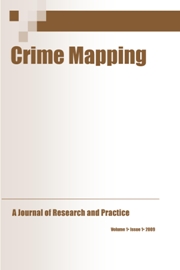 Crime Mapping: A Journal of Research and Practice
Co-Editors Timothy C. Hart, Ph.D. & Paul Zandbergen, Ph.D
• ISSN: 1942-0927 (Print) • ISSN: 2152-9876 (Online)
Keywords: Environmental Criminology, Crime Analysis, Space, Time, and Crime
Article Price: $18.99
---
The Spatial Dynamics of Legal Handgun Concealment
S.E. COSTANZA, JOHN C. KILBURN, JR., and BRANDON MILES
Abstract | Pp. 39–62 |




Previous research seeking to identify regional characteristics associated with legal handgun concealment has not considered possible influences of significant spatial lag terms on handgun concealment rates. This is surprising considering the emphasis that such research has placed the importance of learning gun behavior across geographies. Using OLS and spatial lag modeling, we find that aggregate median income, political conservatism and crime rates are significant predictors of permit issuance rates. Aggregate crime rates show a significant negative association with legal concealment. Moran scatterplot maps are used to visually assess spatial clustering of the dependent variable and crime. We argue that in order to understand legal handgun concealment patterns it is important to focus on localized culture.



---