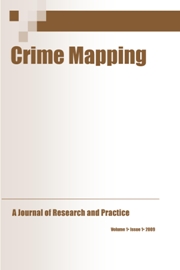 Crime Mapping: A Journal of Research and Practice
Co-Editors Timothy C. Hart, Ph.D. & Paul Zandbergen, Ph.D
• ISSN: 1942-0927 (Print) • ISSN: 2152-9876 (Online)
Keywords: Environmental Criminology, Crime Analysis, Space, Time, and Crime
Article Price: $18.99
---
Assessing the Validity of Risk Terrain Modeling in a European City: Preventing Robberies in Milan
MARCO DUGATO
Abstract | Pp. 63–89 |




This study is one of the first applications of Risk Terrain Modeling (RTM) in an urban context outside the US. It focuses on robberies recorded in Milan, Italy from 2007 to 2010 and applies RTM methodology to analyze urban risk factors in order to forecast future robbery location. Moreover, it discusses the effectiveness of RTM in comparison with another crime forecasting technique and its usefulness for orienting security policies, including countries characterized by poor crime data quality and availability.



---